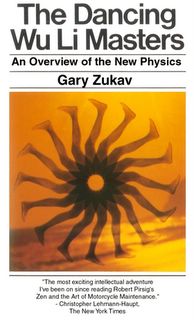 This weekend, during the rides back and forth to Chicago (I'll explain later) I had the opportunity to finish a fantastic book. The Dancing Wu Li Masters : An Overview of the New Physics by Gary Zukav is a fascinating book that explores the revolution that has been taking place in physics since Einstein's theory of relativity and the birth of quantum physics. The book is made even better in that, rather than dive into the mathematical background behind the concepts of subatomic particles, quantum mechanics, relativity, and other theories, Zukav relates at almost a layman's level. Certainly a basic understanding of mechanics and would help, but really the less you know about physics, the better. This is due to the nature of what modern physics has discovered: the world doesn't work like we perceive it to work. So the fewer preconceived notions you have, the better.
About a third of the way through reading this book, I was sure that all physicist must be on some serious mind altering drugs. Concepts like Schroedinger's cat, multiple worlds, and relativity are just so different from the way we think about our world, that it is very difficult to wrap your mind around the concepts immediately. I think that is the gift that the great physicists of our time have. They have the ability to give up everything they have learned through experiencing the world, and accept new ways of thinking about how the world works.
If you are at all interested in what modern physics is saying about how our world works, if you just want an opportunity to marvel at the wacked out things these folks are thinking, I highly encourage you to pick up this book. I came away from it with a real sense of awe and wonder about how our world works.